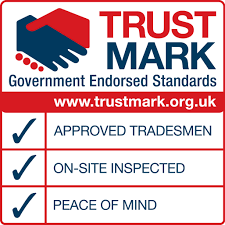 "TrustMark is the only Government endorsed scheme for trades in and around the home. We award registered firms with our accreditation after thorough vetting and on-site inspections to ensure the firm is raising industry standards"

TrustMark is the only Government Endorsed 'find a tradesperson' scheme. As a 'not for profit' social enterprise, they pride themselves on continuing to invest in TrustMark, supporting the Scheme Operators and its Registered Firms to improve consumer protection.
They work with the industries to support firms in the delivery of effective and efficient services to the consumers in and around their homes.
The TrustMark Scheme was developed in 2005, in conjunction with Government, industry and consumer protection bodies.
TrustMark operates within a Master Licence Agreement issued by the Government's Department for Business, Energy and Industrial Strategy. As the only licensed scheme they work closely with Government to continually look for ways in which to improve consumer protection. There goal is to achieve a position where consumers can engage firms with confidence to undertake work that is of high quality, protected and at the agreed costs. They look to work with the all the industries in and around the home and remove the rogue traders to build consumer confidence and increase opportunities for quality firms.
TrustMark is overseen by a focused Board of Directors with expertise in consumer protection and service delivery from firms. The Board supports the delivery of the business through the operational activities of its team and the engagement with Scheme Operators across many sectors of business.
The core services of TrustMark are in the Repair, Maintenance and Improvement sectors (RMI) of the building services trades, in simple terms anything you may have undertaken 'in and around your home'.
The TrustMark Scheme delivers quality firms through its licence agreements with Scheme Operators and Registered Firms. There Scheme Operators and Registered Firms commit to meeting the requirements of the TrustMark Core Criteria, which are reviewed and updated annually.
TrustMark communicates with the industries on a regular basis through many media channels but also holds regular Forum meetings that allow robust discussion and debate through face to face meetings. TrustMark seeks to continually improve and welcomes constructive engagement on how improvements and enhancements can be achieved.
There communication channels cover many styles to ensure that they engage with the consumers and the firms. The growth of digital and social media now allows greater engagement, quality messages and information at your fingertips.



This accreditation gives customers reassurance of quality and protection from rogue traders. TrustMark is the only 'find a tradesperson' scheme to cover all 3 cornerstones of quality:


.
3 CORNERSTONES OF QUALITY




Good Customer Service
Good Trading Practices
Technical Competence